Does Online or Digital Marketing have your head spinning?

 Do you want to know how to build your email list?

 How would a clear Digital Marketing Strategy help your business?

 Not getting results with Facebook?
In today's hyper connected world, business development has evolved and attracting new customers is more focused on digital means. Building out a complete digital marketing strategy encompasses everything from website development, content writing, search engine optimization, social media marketing, conversion funnels, marketing automation, and email marketing not to mention running your business.
With so many new things coming up every day a comprehensive focused strategy is harder and harder to develop. Conflicting messages and tools leave business owners in overwhelm leaving you doing nothing.
See, I'm much like you, I didn't realize the value I had in my own head until I started speaking with other coaches in my class and they were struggling with bringing it all together and marketing their business. Marketing and Selling seemed to be at the top of their list. This gave me the idea to create a training program to help others build out Marketing Funnels and Inspire Sales.
After 15 years of building my own businesses online, and consulting multi-billion dollar companies internet presence, I realized I really wanted to help other coaches change the world through getting their message out further than they ever thought possible.
Not only did I start working with Coaches, I actually went to work full-time as iPEC's Director of Digital Marketing.
And that is why I created the
Digital Marketing Bootcamp!
Dan's knowledge and expertise in marketing and social media was extremely helpful in getting my business up and running. A great coach and motivator, he allowed me to break through my inhibitions and embrace the value of social media so that I could move forward with success. His enthusiasm and insight is bar-none! Thank you, Dan!

– Fran M.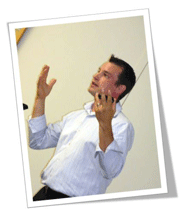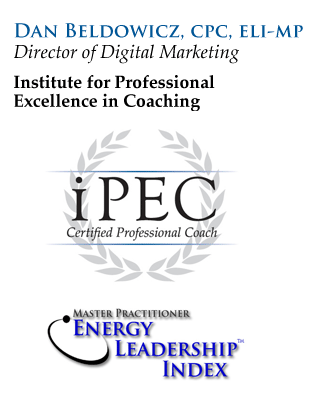 This bootcamp is a 4 week webinar series that will help you create a online lead generation system to maximize your time and money.
Below are the 4 webinars to get you off to the races:
Week 1:
Digital Marketing Funnels
Monday, July 28, 2014 – 8:30pm – 9:30pm ET
+ 30 Minute Q&A
In this webinar you will learn
Why you don't need a website, or social media
Building the center of your marketing universe
Not all lead sources are created equal
Digital Marketing Funnels for Products and Services
Week 2:
Facebook Marketing for Facebook Haters
Monday, August 4, 2014 – 8:30pm – 9:30pm ET
+ 30 Minute Q&A
In this webinar I'll cover:
"I'm not on Facebook, I don't even like it, why should I care about it?"
How to get your message seen by thousands & the algorithm that keeps your post from your fans
How to laser target your perfect customers without being social
How to build two lists at one time
The Dark Post strategy to generate leads
Week 3:
Winning with Webinars
Monday, August 18, 2014 – 8:30pm – 9:30pm ET
+ 30 Minute Q&A
In this webinar you will learn:
How to save hours every week and a boatload of money
The 4 step process to building a continuous webinar lead funnel
How to remove technophobia and launch your first webinar
Crafting your webinar to sell without selling
The formula to keep your audience engaged and watching til the end
How to share your message with the world
Week 4:
Conversion Rate Optimization
Monday, August 25, 2014 – 8:30pm – 9:30pm ET
+ 30 Minute Q&A
In this webinar you will learn:
How to increase your leads without increasing your budget
The 4 step process to optimize everything
What you should be optimizing
Boost Registrations & Signups 10x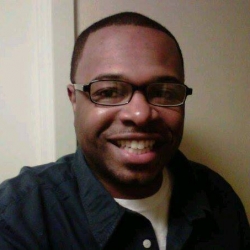 "I have literally been screaming out "I NEED HELP!" Please GOD, Universe, Guardian Angels, send something and/or someone my way. Guess what!? What I put out, came back to me in the form of Dan Beldowicz. If you're anything like me, working your 9 to 5 to find you've stumbled upon a coaching business without any marketing experience. He is the man! Literally 30 mins and my mind was rattling off crazy marketing ideas. I am so thankful and grateful because I was having valley experience lol."
– Ben the Life Coach Carter
This will be a 4 week webinar training to help you
Generate more Leads with your website
Leverage Facebook to get in front of your exact target audience
Create a webinar platform to motivate your audience and inspire sales
Optimize each piece for geometric growth in your coaching business
You get
4 – 1 hour webinars
4 – 30 minute Q&A's
Access to the Recordings
Only 25 Seats Available
days

hours

minutes

seconds
For Only $497 $397
After you go through the checkout process you will need to register for the webinar series, sorry for the extra step but it's a crucial one. These webinars will be recorded so you can access them if you miss anything.